It's your story.
Tell it well.
Oratorio:
Media and Presentation Training for Leaders
Oratorio principals Susan Tomai and Bill Connor and the rest of the Oratorio team are award-winning broadcast journalists who show senior officials from around the world the power of persuasive sound bites and compelling presentations. In our TV studio located three blocks from the White House in Washington and in locations from L.A. to Bangkok to Dubai, we serve senior-level clients from business, government, politics, associations and more.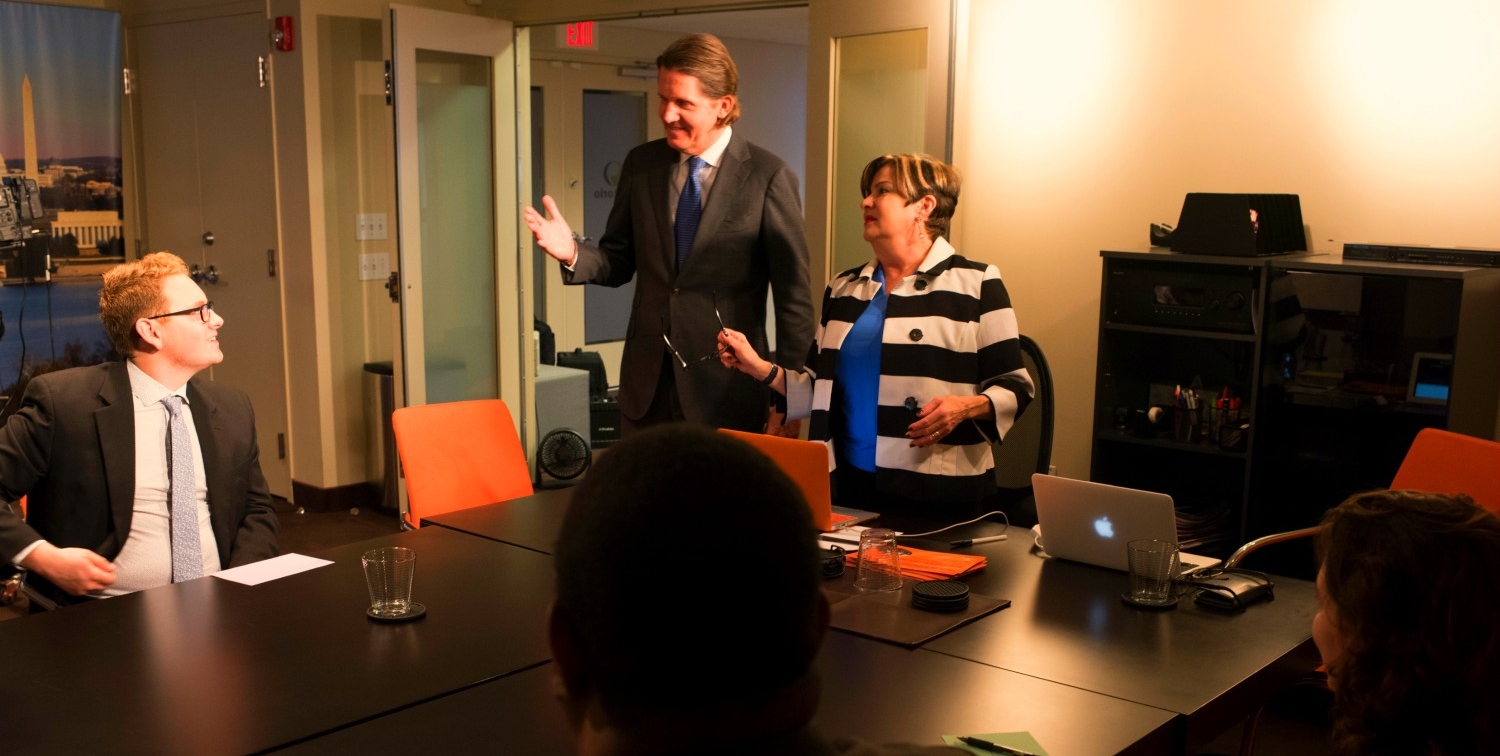 What We Do
Media interviews, presentations, speeches, meetings, conferences, webcasts and other types of public communications are all golden opportunities to advance your agenda and your career - but only if you're well-prepared. Oratorio's experts show professionals how to deliver their key messages with style, confidence and discipline.
 
Media, Crisis, and Presentation Training
The best reason to give an interview is to advance an agenda – and controlling the outcome is crucial. One favorable soundbite can produce huge bottom-line benefits to an organization; a poor performance can mean a waste of resources at best and disaster at worst.
Message Development
Oratorio has developed a specialized methodology for turning essential information into powerful messaging. Using a proprietary brainstorming technique and a series of worksheets and templates we've developed, participants learn how to rapidly organize their thoughts and put them into clear and compelling language for interviews and presentations.
Storytelling
The simple fact is that people respond to stories. People aren't moved to action by lots of dry data, or complicated PowerPoint slides. They are moved and engaged by storytelling. And that is why storytelling is so important in your presentations. Storytelling makes it easier for you to engage people and get their attention.
"Oratorio's training, preparation and practice methodology has transformed my approach to media interviews and public presentations. It is hands down a game changer in getting the results you want from any public speaking engagement."
- Robert Kyncl, Chief Business Officer, YouTube
Our Clients
Our clients range from the Fortune 500 to startups, from U.S. federal agencies to international governments, from K Street to Main Street. Here's a snapshot:
Corporate
YouTube Ritz-Carlton Hotels
Goldman Sachs
UPS
Marriott
Saudi Arabian Airlines
USA Today
Yum! Brands
Lockheed Martin
Thomson Reuters
LendingTree
Kaiser Permanente
Discovery Networks
SunLife Financial
Mitsubishi
Nike
National Geographic
Gensler
NPR
PBS
SC Johnson
Hilton Hotels
General Motors
Six Senses Hotels and Spas
Academia
The Brookings Institution
Georgetown University
Harvard Business School
The University of Virginia Darden School of Business
The Johns Hopkins University
The University of Kansas
Government
The White House
U.S. Department of State
U.S. Postal Service
U.S. Internal Revenue Service
U.S. Environmental Protection Agency
U.S. Department of Health and Human Services
U.S. Department of Transportation
U.S. House of Representatives
Freddie Mac
Sallie Mae
National Institutes of Health
The European Union
Saudia Arabia General Investment Authority
The Embassy of the Kingdom of the Netherlands
The Dubai Lands Department
The National Transportation Safety Board
International Development
The World Bank
The Inter-American Development Bank
The International Monetary Fund
PR & Legal
Porter Novelli
The Harbour Group
Ogilvy
Ketchum Public Relations
DBC Public Relations
Manning, Selvage and Lee
Mullen
Chambers Lopez Gaitan
PCG Campbell
Mindshare Interactive Campaigns
Brodeur Worldwide
GCI
The Harbour Group
Strat@Comm
Hyde Park Communications
Morrison Foerster
Kilpatrick Stockton
Leo Burnett
Political
Democratic National Committee
National Republican Congressional Committee
National Women's Health Resource Center
The Campaign for Tobacco-Free Kids
Associations
Mortgage Bankers Association
National Association of Manufacturers
American College of Cardiology
Humane Society of The United States
American Lung Association
American Diabetes Association
Public Relations Society of America
Associated Builders and Contractors
The Mid-Atlantic Venture Association
National Council of La Raza
American Apparel Association
United States Telecom Association
U.S.-China Business Council
The National Education Association
The Consumer Technology Association
American Academy of Actuaries
Foundations
The Fulbright Foundation
Fannie Mae Foundation
The Ford Foundation